Why do sports have such a powerful effect on the audience?
On Friday night, my boyfriend and I went to see Draft Day and though neither of us are football fans, the movie engaged us and captivated our attention. To quote him: "I don't know what's happening but I'm excited!"
Then last night, veteran hockey player, Ryan Smyth retired from the NHL and I couldn't help but cry as he did his final skate around the ice, as the losing team (the Vancouver Canucks) returned to the ice to shake his hand, the suited colleagues at the bench leaned out to hug him, and when his adorable kids and smartly dressed wife joined him on the ice to walk him off. It was an emotionally charged exit to end a career spanning almost two decades.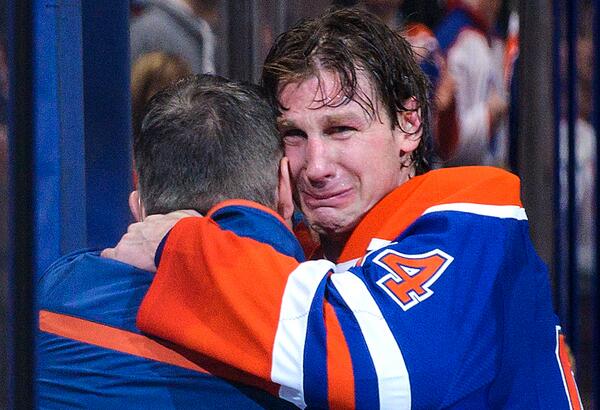 Two ideas rise to the surface to answer the question of audience engagement in sports:
1. The Audience
What would Smyth's final game be without the cheering crowd offering him a standing ovation for nearly two decades of mullet-sporting hockey? It draws on that classic example of audience influence from the presidential debate drawn on in Social: Why our brains are wired to connect that credits the studio audience's reaction during the debate with molding the opinion of a nation. The audience matters. Maybe if the audience in the Oiler's stadium were trickling out instead of cheering or if the fans weren't riled up and engaged with the decisions in Draft Day, the audience at home would take on a similar state of apathy.
2. Portrayal of Emotion
The subject matter needs to evoke a sense of emotion. If Smyth was emotionless during his final skate or if Coach Weaver Jr wasn't reeling from his dad's death a week prior, trying to posthumously impress him, then the audience would be less motivated to get emotionally involved.
It seems to me these are indicative factors that result in audience engagement in sports, what do you think?